After The Post... Next Steps
Requesting Graphics, Sharing On Social And Other Best Practice Tips
Marina does a fantastic job of producing graphics for our organization. As we move into the football season, we want to provide a few guidelines and standard operating procedures to make the graphic request process more efficient for everyone.
Starting right now we are implementing a ticketing system within the following channel: #graphic-request
Please watch this short video here on how to submit a graphic request ticket:
Understanding priorities:
High: Important Breaking news or an urgent request from Shannon
Medium: Social media graphics that you want done that day (quotes from a press conference, etc.)
Low: Non-urgent, don't need that day.
Scheduling: Marina is taking off Thurs and Friday as her weekend starting this week. She will be turning off her notifications and unavailable. @Brent Wainscott will be filling in for her on those days.
Be specific: Please provide Marina with accurate quotes, names, spelling, photos, etc.. it's not efficient to have her search for that stuff. She will only work off of info that you submit. If you need graphics for multiple platforms (ie. social and featured) please say so in the notes.
We want to cut down on the number of low-impact graphics that Marina is working on. A low impact graphic serves a small audience and provides low engagement. Many of the graphics she fulfills could be accomplished with photo+caption. If you are making a request please be mindful of Marina's time. Please understand that if she's working on a low impact graphic for you, it's taking time away from working on more urgent or important projects for other teams.. Ask yourself.. do I really need this?
Social Media Posting
Important Social Media announcement
Please don't upload and post videos that you recorded from TV to any of our On3-owned social media accounts. This puts us a high risk of copyright violations and potentially an account ban. It happened to my friend with 70k followers 2-seasons ago. He had to hire an attorney and pursue legal action to get it back. It is ok to "tweet video" (see screenshot) or quote RT, videos that other people, networks, schools, etc have uploaded.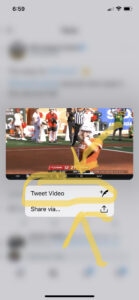 if you tap and hold down on the video it brings these options up