Indiana Fan Shop
Great gift Items for the Hoosier Fan!
Indiana Campus Letter Art Personalized Print
4020

Each letter depicts a place on the Indiana University campus.
You can then personalized the print with YOUR NAME and a creative second line.
You can use that second line for any occasion.
(Example: Class of 2016, Bachelor of Science in Engineering; Happy Father's Day 2016; Dad Of The Year 2016, etc)
Framed Size: 24" x 8" • Made to order • Black Frame
Print is shipped direct from the manufacturer usually within 2 weeks.  
Personalized items are non-returnable. Delivery area limited to continental U.S.
FREE SHIPPING!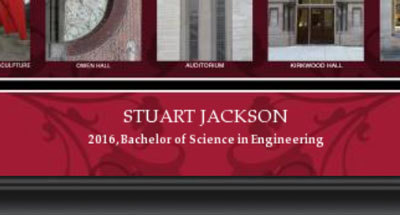 Purchase will appear as Coman Publishing Co. on your credit card statement.
Please feel free to call us if you have any questions: 1-800-421-7751 or 1-919-688-0218